Searching For Re-piping near South Amboy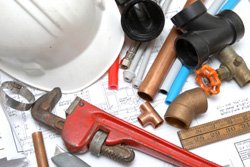 Rich's Plumbing, Heating, & Air Conditioning is a family owned and operated company that has been serving the South Amboy NJ area for close to thirty years. Our goal is to provide sixty minute response times for all emergency plumbing related issues. Whether it's your heater, ac, water heater, or your home needs re-piping, we provide a full array of plumbing services to fit your needs. Not only are we New Jersey's fastest responders, but we provide the lowest prices on the leading brand name products such as Goodman and Carrier, give our certified techs a call -- we're available 24/7!
The Best Plumbers In New Jersey - Also Offering HVAC Services
Rich's Plumbing offers a huge range of plumbing services that vary from repairs to simple cleaning. Our plumbing technicians provide free and accurate estimates with no hidden fees or up-charges, and we refuse to perform any work without your approval.
Our plumbing services include (but are not limited to):
Water pipe replacement
Leak detection and repair
Water main and water line services
Video pipe inspections
Sewer cleaning and drain cleaning
Faucet and plumbing fixture installation and repair
Pressure tank repairs
Water heaters
Tankless water heaters
Repiping
And more!
Serving New Jersey for over twenty years for re-piping and all plumbing and HVAC services
Our extensive knowledge of the industry allows us to suggest the best equipment for your home, we also take into consideration your budget, and lifestyle. We install only the leading and high quality brand name products that provide the longest lifespans. By choosing us for your plumbing services, you're guaranteed to save time, money, and hassles in the long run. Give us a call at 888-656-5149, we'll answer anytime, anyday!
Re-piping
Sewer and water pipe replacement can be a huge hassle, and is usually an emergency situation. Unfortunately, this often leads to homeowners not exploring all of their options for replacement or repairing their water and sewer lines.
Trenchless pipe repair is a great solution for a number of common plumbing problems:
Damaged sewer pipes resulting from tree roots
Pipe blockages due to household debris in lines
Leaking sewer lines caused by improper installation
Persistent sewer backups
Damaged pipes due to repeated ground freezing
Increasing the size of a water line to accommodate household needs
Rich's Plumbing is great. My water heater broke and they came within a hour. The technician was very polite and I was very pleased with the work he did. I never leave reviews but I was so happy that they actually came so fast and fixed it within 2 hours. I would highly recommend them.
Don't pay a fortune to have someone spend days tearing up your lawn and property! Contact Rich's Plumbing, Heating, & Air Conditioning to get professional, code-compliant trenchless pipe repair and replacement services that will take a fraction of the time and cost you a fraction of the price! We're available 24 hours a day, 7 days a week to provide you with a free and accurate estimate for fixing your sewer and water main lines.