Searching For Tankless Water Heaters around Hazlet NJ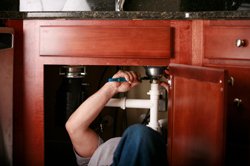 Rich's Plumbing, Heating, & Air Conditioning is a family owned and operated company that has been serving the Hazlet NJ area for close to thirty years. We strive to provide sixty minute response times for all plumbing emergencies. Whether it's your heater, ac, water heater, or your home needs re-piping, we provide a full array of plumbing services to fit your needs. Not only are we New Jersey's quickest responders, but we provide the lowest prices on the leading brand name products such as Goodman and Carrier, give our licensed technicians a call -- we're available 24/7!
The Best Plumbers In New Jersey - Also Offering HVAC Services
Rich's Plumbing offers a wide range of plumbing services that vary from repairs to simple cleaning. Our plumbing technicians provide free and accurate estimates with no hidden fees or up-charges, and we refuse to perform any work without your approval.
Our plumbing services include (but are not limited to):
Water pipe replacement
Leak detection and repair
Water main and water line services
Video pipe inspections
Sewer cleaning and drain cleaning
Faucet and plumbing fixture installation and repair
Pressure tank repairs
Water heaters
Tankless water heaters
Repiping
And more!
Serving New Jersey for over twenty years for tankless water heaters and all plumbing and HVAC services
Our extensive knowledge of the plumbing industry allows us to recommend the right equipment for your house, budget, and lifestyle. We install only the leading and high quality brand name products that provide the longest lifespans. By choosing us for your plumbing services, you're guaranteed to save time, money, and hassles in the long run. Give us a call at 888-656-5149, we'll answer anytime, anyday!
Tankless Water Heaters
Sewer and water pipe replacement can be a huge hassle, and is usually an emergency situation. Unfortunately, this often leads to homeowners not exploring all of their options for replacement or repairing their water and sewer lines.
Rich's Plumbing, Heating, & Air Conditioning offers the latest, state-of-the-art trenchless water main repair that offers a wide range of benefits over traditional methods, including:
Lower cost than open and cut system
Minimal impact on your property
Seamless piping
Lowers noise impact
Trenchless rehabilitation and pipe construction
Takes less time to complete
Preserves your lawn, garden, landscaping, driveway, and patio
As a Realtor and a prior client, I have been recommending Rich's Plumbing for some time now. When a client has a home that needed Heating or Plumbing Repair work in order to sell or due to an Inspection Issue, I refer them & tell them you can use whomever you like- but give them a call. All of my clients that have used Rich's Plumbing were very satisfied!!
Don't pay a fortune to have someone spend days tearing up your lawn and property! Contact Rich's Plumbing, Heating, & Air Conditioning to get professional, code-compliant trenchless pipe repair and replacement services that will take a fraction of the time and cost you a fraction of the price! We're available 24 hours a day, 7 days a week to provide you with a free and accurate estimate for fixing your sewer and water main lines.